Last month we are supposed to receive an international award from "Top 10 of Asia" and "Niaga Times" called "Made for The World "2020. However, the event was postponed due to CMCO imposed by the Government as Covid 19 infection spreading fast. Upin and Ipin are our gift to our beloved country, Malaysia. Upin and Ipin are household name in Malaysia, Indonesia, Singapore and Brunei. In fact, it is already well known in South East Asia where the footprint of Disney Channel Asia covers. It started to spread its wing in Indian Sub-Continent, when Disney Channel India acquired the program in 2019. In its first year, the ranking was no 9 among all animation series on Disney Channel, but this year the ranking improved to no three. How proud we are in making Malaysian product stormed the world entertainment scenes.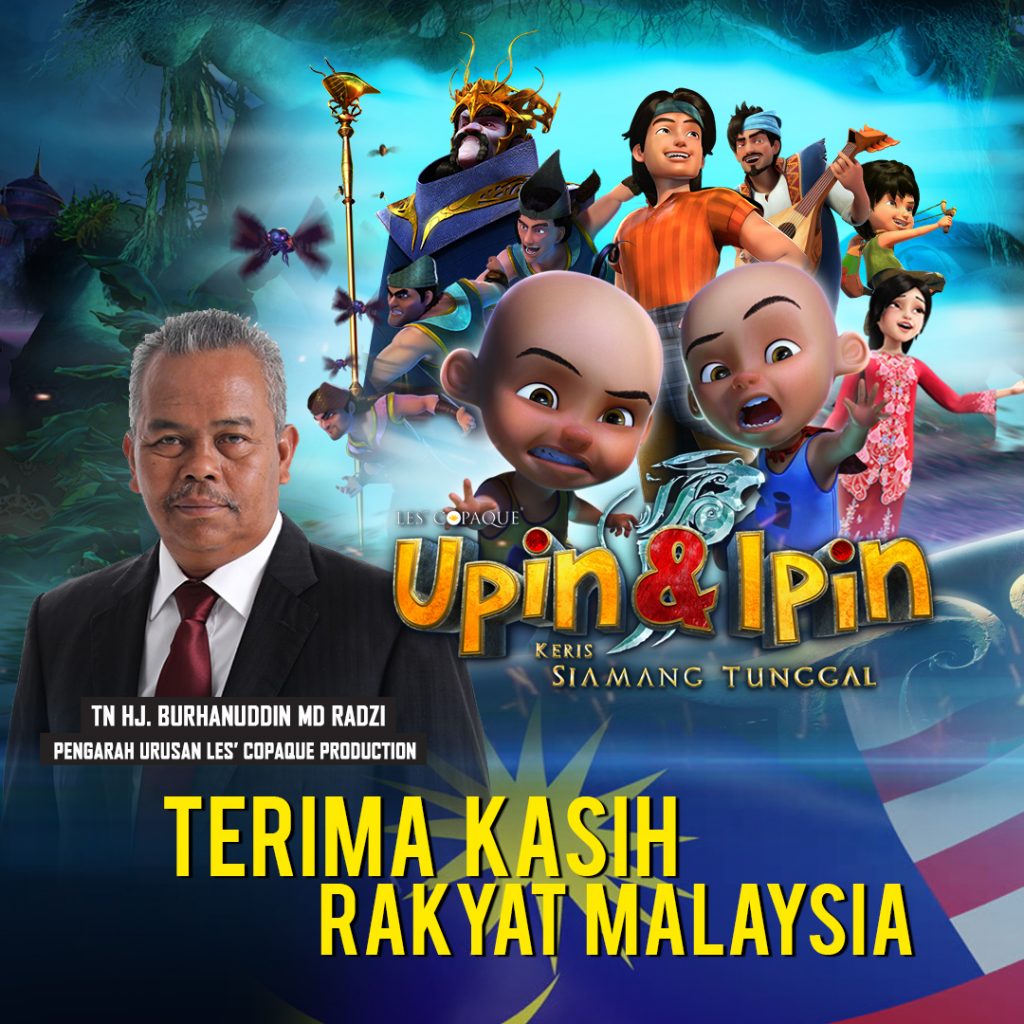 In 2014, we successfully negotiated a collaboration agreement with Tsuburaya Japan, the producer of Ultraman. With that agreement, we jointly produced the first 3d animated Ultraman and we developed Ultraman Ribut. When Ultraman Ribut featured in Upin and Ipin Series, we introduced Silat in his movement. It was well accepted by Tsuburaya and recently they produced The Series "Ultra Galaxy Fight: The Absolute Conspiracy" featuring Ultraman Ribut. How proud we are when they retained the Ultraman Ribut's fighting movements as Silat. We left a marked on their IP and it is definitely Malaysia's pride.
When we launched our film "Upin Ipin Keris Siamang Tunggal" all our staff were wearing tanjak. Tanjak is something special for the Malays, it was usually worn by the warrior's long time ago. We created interest for young people to wear tanjak again, and during Hari Rayain 2019, we noticed a lot of young people wearing tanjak when making their Hari Raya visit. When we had our Gala Premier in Los Angeles that year, all our staff proudly had their tanjak on to show that we are from Malaysia.
Film "Upin Ipin Keris Siamang Tunggal" had won many accolades internationally. It won the best animation film in Montreal Animation Film Festival in 2019 with special mention on the Script. The script was beautifully written when we included most of the Malay famous folklores stories and smartly imbedded into the story. It was selected as Malaysia's representative to the main film categories in Asian Academy Creative Awards 2019. It is the only animation film competing with the main film and obviously we lost to Bollywood film. However, we are proud that an animation film was able to be selected to represent the country and compete with feature films from all over Asia.
Through our own initiatives, we submitted our film for Oscar nomination after we were not selected by Finas to represent the country. We have to send our staff to Los Angeles to submit the nomination in person as the closing date almost closed when we knew that our film was not selected to represent Malaysia. By nominating privately, we were required to show the film for public viewing in cinemas in Los Angeles for seven days and three shows per day. It definitely cost us substantially and we held gala premier in Los Angeles so that some of the jury were aware of our film. We are grateful to Allah that all our efforts were rewarded when our film were selected as one of the 32 animation films shortlisted as the nominees. It is the first time Malaysian film being selected and we made history for the Malaysian film industry. We are in the same league with Frozen 2, How to train your dragon; The Hidden World, The Angry Bird Movie 2, Ne Zha from China, and others who did not make to the final. Toy story 4 won the award that year. It cost us almost RM 300 k for our foray to Oscar, but it was well worth it. Fortunately, with the former Minister intervention, MDEC subsidized half of the cost. We thank YB Gobind and CEO of MDEC for that.
We were hoping the film made a grand entrance into China, Turkey and Bangladesh cinemas. But it was fated, when Covid 19 pandemic made its grand entrance, all our planning goes down the drain. We kept the film for almost two years from the internet platforms, hoping that we may have the slightest chance to release it in China's cinemas. It is obvious that it is difficult as the Covid 19 threat is still there, we decided to release on Astro First on 3rd December 2020. It is for our fans to enjoy it at home and for those who missed the shows in cinemas when we released it in 2019. Hope you enjoy it as it is our masterpiece and it took us five years to produce it. Hope all our fans refrain from sharing it on social media and all the other internet platforms. Lets us make an effort to refrain from joining the pirates which paralyzed the local film industry.
Les' Copaque Production Sdn Bhd will continue to produce world class products so that all Malaysian can be proud of our products. We lead others follow.
Tuan Haji Burhanuddin Md Radzi
Managing Director Les' Copaque Production
3,861,555 total views, 0 views today